Today.Az

»

Society » Ancient articles found in Sheki


29 August 2014 [10:08]

- Today.Az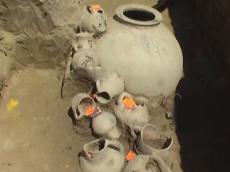 By AzerNews

Sheki is one of the most ancient cities of Azerbaijan. It was one of the biggest towns in the Caucasian Albania in the 1st century. The name of a north-western Albanian province comprising 11 districts was Sheki.

It is mentioned as "Sheke", "Shaka", "Shakki" and others in a number of medieval sources. There are many surviving histo­rical and cultural monuments attributed to that period. In general, this region is rich in historical monuments attributed to the Caucasian Albania.

As a result of recent archeological excavations carried out in Yonjali, located in Fazil village in Sheki, a great number of ancient articles were found, including granary and kitchen items, brown ware of Scythians and Sakas, animal horns and sword with brass knifes, relating to the middle of I millennium BC.

Interestingly enough, patterns can be noticed on some articles and they relate to the middle of the first millennium BC. The necropolis was also found there and it is related to that period as well.

The Head of the Archeological Expedition Gah-Oguz under the Institute of Archeology and Ethnography, Nasib Mukhatarov, said that the finds discovered in Yonjali link middle period of Khojaly-Gadabay culture with antique period of Caucasus Albania.

There are many interesting historical monuments in Sheki. To the north of the city, there are the ruins of the once impregnable fortress "Gelersan-gerarsan" ("Come and see") dated by the 15-18 centuries. There were many caravanserais in Sheki. Two of them are still here today: the Upper and the Lower Caravanserais, both built in the 18th century. Not to mention the Albanian temple in the village of Kish (1-2 centuries), where the famous Norwegian Thor Heyerdahl has repeatedly researched.

One of the main tourist attractions of the world is the Palace of Sheki Khans, erected in the 18th century.