Today.Az

»

Society » Today.Az to broadcast 'Eurovision-2012' Grand Final LIVE


26 May 2012 [11:17]

- Today.Az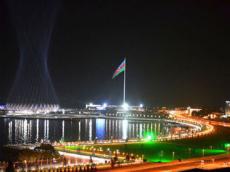 The time has come for the Grand Final of the Eurovision 2012 Song Contest in Baku. And, the users of the Today.Az website will be able to watch the grand final of Eurovision 2012 song contest on the website.
The grand final will begin at 00:00 local time at the Baku Crystal Hall .
Following the first and second semifinals of the Eurovision Song Contest 2012, held in Baku on Wednesday and Friday, all finalists of the contest and their order of appearance in final on May 26 have been determined.
| | | | |
| --- | --- | --- | --- |
| Number | Country | Performer | Song |
| 1 | UK | Engelbert Humperdinck | "Love Will Set You Free" |
| 2 | Hungary | Compact Disco | "Sound Of Our Hearts" |
| 3 | Albania | Rona Nishliu | "Suus" |
| 4 | Lithuania | Donny Montell | "Love Is Blind" |
| 5 | Bosnia & Herzegovina | Maya Sar | "Korake Ti Znam" |
| 6 | Russia | Buranovskie Babushki | "Party for Everybody" |
| 7 | Iceland | Greta Salome & Jons | "Never Forget" |
| 8 | Cyprus | Ivi Adamou | "La La Love" |
| 9 | France | Anggun | "Echo (You And I)" |
| 10 | Italy | Nina Zilli | "L'Amore È Femmina (Out Of Love)" |
| 11 | Estonia | Ott Lepland | "Kuula" |
| 12 | Norway | Tooji | "Stay" |
| 13 | Azerbaijan | Sabina Babayeva | "When The Music Dies" |
| 14 | Romania | Mandinga | "Zaleilah" |
| 15 | Denmark | Soluna Samay | "Should've Known Better" |
| 16 | Greece | Eleftheria Eleftheriou | "Aphrodisiac" |
| 17 | Sweden | Loreen | "Euphoria" |
| 18 | Turkey | Can Bonomo | "Love Me Back" |
| 19 | Spain | Pastora Soler | "Quédate Conmigo" |
| 20 | Germany | Roman Lob | "Standing Still" |
| 21 | Malta | Kurt Calleja | "This Is The Night" |
| 22 | F.Y.R. Macedonia | Kaliopi | "Crno I Belo" |
| 23 | Ireland | Jedward | "Waterline" |
| ­­­24 | Serbia | Željko Joksimovi? | "Lautar" |
| 25 | Ukraine | Gaitana | "Be my guest" |
| 26 | Moldova | Pasha Parfeny | "L?utar" |