Today.Az

»

World news » Paris Olympics torch relay will involve 10,000 runners


01 June 2023 [09:00]

- Today.Az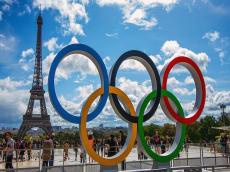 After the flame is lit in the traditional ceremony in Olympia, Greece, it will arrive by sea in Marseille aboard the three-master Belem on May 8, Azernews reports via France 24.
From there it will travel across France on its way to the Olympic opening ceremony in the capital on July 26.
There has been speculation that the Olympic flame will be placed on the Eiffel Tower, but the president of the organising committee, Tony Estanguet, told a press conference the final destination had not been decided.
"The Eiffel Tower has not been decided as the lighting location for the cauldron," he said.
A novelty this time is "collective relays", which could be groups of up to 24 people, with one carrying the torch.
There will be 3,000 collective and 7,000 individual torchbearers, including equal numbers of men and women aged 15 and over.
Each torchbearer will carry the flame for around 4 minutes over a distance of 200 metres.
A third of the torchbearers will be selected by the organising committee and the sports bodies, another third by relay sponsors Coca-Cola and French bank BPCE, another third by other Olympic partners, and the final 10 percent by the regions hosting the relay.
The International Olympic Committee forbids elected officials and religious figures carrying the flame.
Some French departments refused to take part, deeming the 180,000-euro ($193,000) cost prohibitive.
The organisers said there would be "an itinerant bubble" of security around the flame provided by the French gendarmes, police and local security forces.
The Paralympic torch relay, which will arrive in Paris on August 28 for the opening of the Paralympic Games, will involve 1,000 torchbearers, and will be shorter.
The record for most torch bearers is 20,000 ahead of the Beijing summer Games in 2008. That relay passed through 19 countries, where it was carried by more than 1,300 bearers, before reaching China. It covered a total of 85,000 miles on its 130-day journey.
For the last Summer Olympics in Japan in 2021, the Olympic torch relay was banned from public thoroughfares in many departments, including Tokyo, because of Covid. For the same reason the relay ahead of the 2022 Winter Games was reduced to three stages in Beijing.
At the London Olympics in 2013, 8,000 people relayed the flame.