Today.Az

»

World news » Russia to send fertilizers to Nigeria for free — Lavrov


31 May 2023 [19:50]

- Today.Az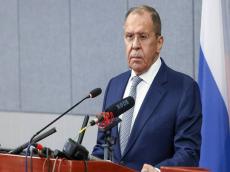 Moscow intends to deliver a shipment of Russian fertilizers to Nigeria free of charge in the near future, Russian Foreign Minister Sergey Lavrov said on Tuesday at a press conference following his visit to Burundi, Azernews reports, citing TASS.
"Last September, President [Vladimir] Putin announced that we were ready to deliver 300,000 tons of our fertilizers, illegally seized in EU ports, to African countries free of charge. Fully in line with colonial practices and habits, the EU leadership blocked this initiative. It took us 6 months to get at least the first shipment of 20,000 tons to Malawi, and just recently another shipment of a similar amount of fertilizer was delivered to Kenya. The same shipment is scheduled to go to Nigeria soon," he said.
All of this comes at the cost of enormous efforts by the World Food Program and UN Secretary General Antonio Guterres to "overcome the openly Russophobic position of EU members who oppose any initiatives that in one way or another will help developing countries, if such assistance is provided by the Russian side."