Today.Az

»

World news » Georgian tourists' spending abroad for 1Q2023 tops $140M


29 May 2023 [20:21]

- Today.Az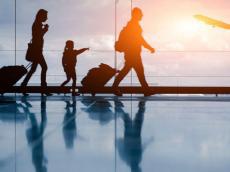 The number of Georgian citizens' trips abroad significantly grew from January through March 2023, Azernews reports.
This figure amounted to 585,800, up by 2.2 times on an annual basis.
Most of the trips (46.3 percent) were made by citizens of the 31-50 age group.
The total number of tourist visits in the first quarter of this year amounted to 255,400, which is 76.9 percent more than in the first quarter of 2022.
The main destinations of visits by Georgian citizens were EU countries (13.6 percent), Russia (6.8 percent), and Türkiye (5.8 percent).
Along with visiting acquaintances, the reasons for Georgian citizens to travel abroad were shopping, professional or economic activities.
The average number of nights spent during the visits of Georgian citizens in the first quarter of 2023 was 6.1 nights, which is 5.4 percent less than in the same period of 2022. During this period, Georgian citizens spent 372.5 million lari ($147 million) abroad.
Meanwhile, the average spending of each traveler from Georgia amounted to just over 830.8 lari ($321.4), which is 37 percent less than in the first quarter of 2022. The main items of expenditure were shopping, food, and accommodation.
In 2022, 5.4 million international travelers visited Georgia, which is 188.5 percent more than in 2021. These figures have recovered by 58 percent compared to the pre-COVID-19 pandemic period. Georgia's revenue from international travelers in 2022 amounted to more than $3.5 billion, which is 182.4 percent more than in 2021.