Today.Az

»

World news » Kyrgyzstan, Uzbekistan approve range of documents on border demarcation


29 May 2023 [19:50]

- Today.Az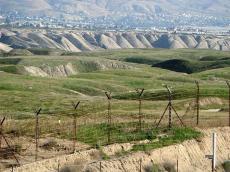 The government delegations of Uzbekistan and Kyrgyzstan approved normative and technical documents on the demarcation of the state border following the meeting of a Kyrgyz-Uzbek joint demarcation commission, Azernews reports.
The meetings of working groups focused on the demarcation of the state border, along with the first gathering of the joint demarcation commission, took place in the Uzbek city of Samarkand.
During the meeting, the results of joint field surveys conducted on specific sections of the Kyrgyz-Uzbek state border were also discussed.
The border with Uzbekistan is the longest border of Kyrgyzstan, stretching for 1,314 kilometers. Due to unmarked sections of the border, conflicts arose, some of which resulted in human casualties.
In November 2022, the authorities of Kyrgyzstan and Uzbekistan announced that they had put an end to the border dispute, which had lasted for over 30 years.
In January 2023, Kyrgyzstan and Uzbekistan completed the process of border delimitation. As a result of the negotiations, a declaration on comprehensive strategic partnership was signed.