Today.Az

»

World news » Oil minister hopes OPEC discussions will bear fruits


07 December 2018 [15:57]

- Today.Az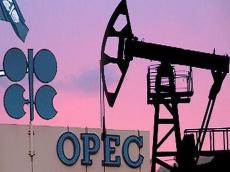 By  Trend
Iran Minister of Petroleum Bijan Zangeneh hopes OPEC discussions, though held in a tough atmosphere, will bear fruits, Trend reports referring to IRNA.
Zangeneh made the announcement in an interview with reporters after leaving the 175th OPEC session held in Vienna, Austria, behind closed doors.
He said Iran is not worried about outcome of the OPEC talks.
'Man lives on hope,' said Zangeneh when asked whether there is any hope for agreement in the OPEC.
Saudi Minister of Energy, Industry and Mineral Resources Khalid A. Al-Falih said while leaving the session that the talks will continue.
Iraq Oil Minister Thamir Ghadhban also said talks will continue on the production level.
He said talks will continue with the non-OPEC members on Friday.
Some ministers made no comment while leaving the session.
The 175th OPEC session, attended by 14 members, was held behind closed doors for six hours on Thursday and it will continue on Friday.
Earlier, Reuters had announced that OPEC members had agreed to tiny cut in the output.
Zangeneh had said prior to the OPEC session that the idea of 1.3 to 2.4 million output cut is on the table and there will be more discussions on the figures.
He said Iran has no problem with the OPEC output cut and it depends on the decision of majority of the members.
He added that Iran will not join any agreement for output cut as long as sanctions are not totally eliminated.