Today.Az

»

Politics » Delegation from Spain to chair OSCE next year to visit Baku


25 May 2006 [15:51]

- Today.Az
Spanish delegation led by Ambassador Carlos Sanchez de Boad, head of Spain's permanent delegation to OSCE, will visit Baku on 31 May within the tour to the South Caucasus states.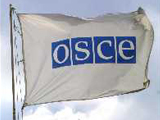 A diplomatic source told APA that the objective of the visit is acquaintance. As a rule, officials of a state preparing to chair the OSCE visits the participant states to get information on issues to be considered during its chairmanship and determines its priorities.
During the two-day stay in Baku, the Spanish diplomats will have talks at President's Office, Foreign Ministry, parliament as well as meet opposition leaders, heads of NGOs and media experts. The delegation will also meet ambassadors of OSCE member states accredited in Baku.