Today.Az

»

Politics » Roadside bomb blast kills 3 soldiers in southern Yemen


08 March 2023 [09:29]

- Today.Az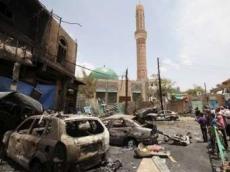 Three Yemeni soldiers were killed Monday in a roadside bomb explosion in the country's southern province of Abyan, a security official told Xinhua.
The incident occurred when elements detonated their roadside bomb near an army patrol while passing through a road in the Mudiyah district of Abyan, causing an explosion, the local security official said on condition of anonymity.
The official confirmed that three soldiers were killed and two others injured as a result of the bombing.
Local security soldiers and medical personnel were quickly dispatched to the scene to assist the injured soldiers and secure the area.
The explosion marks the latest in a series of similar attacks against government soldiers in Abyan, with tensions continuing to rise between government forces and terror elements of al-Qaida.
Several areas in Abyan and other neighboring southern provinces have been a hotbed of activity for the al-Qaida group in recent months, with frequent clashes between government forces and militants.
The Yemen-based al-Qaida in the Arabian Peninsula network has exploited years of deadly conflict between the Yemeni government and the Houthi militia to expand its presence in the war-ravaged Arab country. It has carried out many high-profile attacks against the security forces in the country's southern provinces.