Today.Az

»

Politics » Official: US may invest in Azerbaijan's green energy


03 February 2023 [14:37]

- Today.Az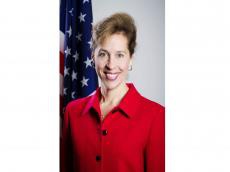 The US may invest in Azerbaijan's green energy production and exports, US Deputy Assistant Secretary for Energy Diplomacy in the Bureau of Energy Resources Laura Lochman said, Azernews reports.
The official made the remarks at the 9th Southern Gas Corridor Advisory Council Ministerial Meeting in Baku.
Noting that the parties aim at further developing cooperation, she added that US President Joe Biden supports the issue of gas exports from the Caspian Sea to Europe.
"The US has supported and will continue to support the Southern Gas Corridor project to ensure the energy security of its European partners. This corridor is a very important project for Europe, and Azerbaijan plays a leading role in ensuring energy security," she emphasized.
Additionally, Lochman stressed that the Southern Corridor plays a crucial role in strengthening not only the energy but also the political security of Europe.
"It creates opportunities for cooperation between many countries, which, using this opportunity, can ensure their economic growth. The US will continue to support the transportation of natural gas produced in the Caspian Sea to Europe and help Azerbaijan in this," she said.
In 2023, Azerbaijan plans to increase gas supplies to Europe to 11bn cu.m. As of 2022, Azerbaijan has exported 9.3 billion cubic meters of gas to Europe in the first 10 months and is expected to supply 11.5bn cu. m. of gas to Europe by the end of the year.