Today.Az

»

Politics » Hungarian premier credits Azerbaijani president for bolstering strategic relations


31 January 2023 [11:00]

- Today.Az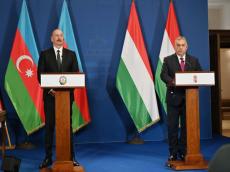 Hungarian Prime Minister Viktor Orban at a meeting in Budapest credited Azerbaijani President Ilham Aliyev for bolstering relations between the two friendly nations, Azernews reports per Azertac.
Addressing the Azerbaijani leader, the Hungarian prime minister highlighted the discussion of "all issues of strategic importance for cooperation between our two countries".
"We are grateful for your sustainable contribution to the strengthening of relations and traditional cooperation between our peoples over the past decade. We do appreciate that. Our countries did not start this important friendship now. We started it a long time ago. You are our friend not only because of energy. I imagine you have new friends now because the strategic importance of your country in the world is growing. However, our cooperation began a long time ago and is based not only on interests, but also on cooperation in the field of culture and traditions," the prime minister of the friendly nation said.
Viktor Orban also praised the Azerbaijani president's support for Hungary to join the Organization of Turkic States.
"Mr. President, you have always supported Hungary joining the Organization of Turkic States. We do appreciate that. Hungary as a Turkic-speaking country is a country participating in that platform, and this is important for us not only from a cultural but also from a political point of view. In short, Mr. President, you are welcome to our country, to Budapest. We are very grateful to you for visiting us. We value our deep cooperation established in the past and look forward to it continuing in the future," the prime minister concluded.