Today.Az

»

Politics » Human rights activists of Azerbaijan to discuss 'political prisoners'


07 July 2005 [08:24]

- Today.Az
The issue of clarification and stepping forth from the single position towards 'political prisoners' will be submitted for discussion to human rights activists and other participants of the July 7 meeting at the Committee on Democracy and Human Rights (DIHK).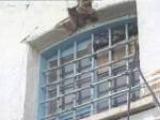 Following the announcement, the head of the Committee, Chingiz Ganizada told Trend that the objective of the upcoming gathering is to get everything arranged for a meeting of the Task Force [on political prisoners], scheduled for July 8, where state officials are expected to participate.
 Participating at the DIHK meeting will likely be the following human rights activists: Rana Sadaddinova and Murad Sadaddinov, Saadat Bananiyarly, Novella Jafaroghlu, Sahib Mammadov, Saida Gojamanly, Zaliha Tahirova, and Eldar Zeynalov.

"After the first meeting of the Task Force, human rights activists have been engulfed by appeals addressed by citizens at an individual level. We want to draw up a single list, following the consideration of appeals with regard to political prisoners, in order to efficiently spend the time schedule for a meeting with the Task Force [on political prisoners]. The main purpose of the meeting is, undoubtedly, to compose differences among human rights activists in the issue of political prisoners," Ganizada said.