Today.Az

»

Politics » 57 countries, OIC members support Azerbaijan unanimously in Armenian-Azerbaijani conflict


06 July 2005 [10:00]

- Today.Az
57 countries, members of the Organization of Islamic Conference (OIC), have unanimously supported the position of Azerbaijan by adopting 3 resolutions at the next 32-th conference of the Foreign Ministries (FM) heads of the OIC member-countries, which took place in the Yemen's capital city, Sana, head of the II territorial Administration of the Azerbaijan's FM, Azer Husseyn told the briefing on 5 July, Trend reports.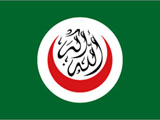 Resolutions, adopted at the conference, where Azerbaijan has been represented by the FM Elmar Mammadyarov, strongly condemn the Armenia' actions as the aggressor-country, they reflect the attitude of Islamic countries to destruction of the Azerbaijan's cultural heritage on the occupied areas. According to Husseyn, support of the Islamic countries means very much for Azerbaijan. «The very fact of voicing the Upper Karabakh problem from the tribune of such an authoritative organization is an important support for Azerbaijan", the FM official spokesman stated.  

According to Husseyn, the FM Mammadyarov addressed the conference with the proposal to hold the next conference in Baku. Thus, by the conference's decision the 33-th conference of the FM heads of the OIC countries and Ministers of Tourism will be held in 2006 in Azerbaijan.  

Within the conference, the FM of Azerbaijan held a number of bilateral meetings with his counterparts from Iran, Pakistan, Russia, Palestine, Turkey and other countries to have exchange of opinions on bilateral issues.

According to Husseyn, the conference took a decision to give Russia, where 20 million Moslem live, the observer' status. «By the far-sighting policy of Azerbaijan, while establishing the observer's status in the organization, provision on not acceptance the countries, having conflicts with another member of the organization has been adopted", Husseyn stressed. In other words, Armenia has no chances to join the organization.