Today.Az

»

Politics » EC is for free, democratic and just parliament elections


07 April 2005 [15:39]

- Today.Az
European Union (EU) expects from Azerbaijan leadership, free, democratic and just parliament elections, which serve to strengthening of ?U-Azerbaijan relations.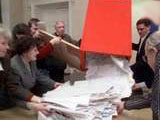 Trend reports, the ambassador of Great Britain to Azerbaijan Lory Bristow, stated at the seminar on the theme "Integration of Azerbaijan into the Policy of New neighborhood with EU" 6 April, the representative office of EU in Azerbaijan and Parliament initiative of Southern Caucasus was the host of this seminar.

"Electors are to see at new parliament the deputies, who they voted for", he indicated. He said, democratic elections are very important factor for further cooperation of EU with Azerbaijan. EU is ready to assist Azerbaijan in this issue, the ambassador indicated. Joining of Azerbaijan to policy of new neighborhood with EU is highly appreciated by this structure and indicates wish of the state to integrate more closely with Europe, the diplomat underlined. L.Bristow called Azerbaijan cooperating closely with other states of the Southern Caucasus.

The Deputies of Milli Mejlis of Azerbaijan, who participated at the seminar, expressed their disagreement on some recommendations of EU, particularly, on cooperation with Armenia. The vice-speaker of MM Ziyafet Askeorv thinks, it is wrong to put in front of Azerbaijan conditions about cooperation with aggressor- Armenia, which occupied more than 20% of Azerbaijan territories. International organizations are not to turn their blind eye on making these territories as drug traffic area, on the point, that Armenia purchases weapons from gained finances and hinders restoration of stability in the region, Z. Askerov indicated.

The participants of the seminar expressed their opinion on activation of efforts of international structures for quickest settlement of Armenian- Azerbaijan conflict, which hinders restoration of peace and stability in the region and expansion of EU.