Today.Az

»

Politics » OSCE chairman-in-office called Nagorno Karabakh as "disputable territory"


01 April 2005 [15:01]

- Today.Az
The OSCE chairman-in-office, the head of Slovenian MFA Dimitrij Rupel stated in Yerevan, "Nagorno-Karabakh problem is a special case, this conflict may not be compared with other frozen conflicts".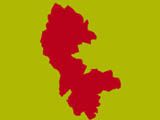 D.Rupel stated this, commenting his speech at the UN session of the Council of Security in New York, 4 March where he called Nagorno-Karabakh as "disputable territory" ("Mediamax").

The OSCE chairman-in-office stated, "Information about frequent cases of violation of ceasefire at front line causes serious concern". "I hope, all possible measures are to taken for mitigation of existing tension", Dimitrij Rupel said. With that end in view he indicated, the parties are to abstain from "aggressive rhetoric". Dimitrij Rupel stated, he intends discussing situation at the contact line of the parties during negotiations with Azerbaijan leadership.

"OSCE is unaware of "other methods" for settlement of conflicts, except peaceful methods", Dimitrij Rupel said, commenting the Azerbaijan president Ilham Aliyev's recent statement, if peaceful negotiations on settlement of Nagorno-Karabakh conflict fail, "Azerbaijan is to undertake other measures".

He indicated, since this point till the end of summer it will be possible conducting negotiations between Nagorno-Karabakh, Armenia and Azerbaijan. D.Rupel underlined just as well, he looks forward to quickest prevention of violation of ceasefire regime and normalization of situation at the contact line. With this end in the view the head of OSCE indicated, undoubtedly he would discuss with Azerbaijan party the issue of moving the Azerbaijani positions towards the contact line. "We presume the aggressive language between parties is non-admissible", underlined D.Rupel.

He said, main players in the process of settlement of Karabakh conflict are Armenia and Azerbaijan. However, telling this, he may imagine the situation, when opinions of other interested people may also be taken into account. D.Rupel added, he meant people of Nagorno-Karabakh in this instance.