Today.Az

»

Politics » Polish President: Nagorno-Karabakh is inseparable part of Azerbaijan


31 March 2005 [15:55]

- Today.Az
Poland supports territorial integrity of Azerbaijan.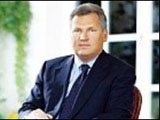 The Agency Trend reports, the Polish president Alexandr Kvasnevskiy stated at joint briefing with the Azerbaijan president Ilham Aliyev 30 March, in Warsaw.

Alexandr Kvasnevskiy stated, Nagorno-Karabakh is inseparable part of Azerbaijan and the conflict is to be settled on the base of international rule of law. He continued the parties of conflict are to come to agreement in settlement of the problem themselves; however Poland is ready in its turn rendering necessary assistance. ?.?vasnevskiy spoke with initiative of  organization of meeting of Armenian and Azerbaijan presidents at the  territory of Poland.

The Polish president also indicated, in accordance with mandate of the personal representative of the chairman of OSCE the Polish diplomat Anjey  Kaspshik is specially instructed concerning considering of stability at  contact line of Armenian and Azerbaijan troops and conducting of  corresponding monitoring.