Today.Az

»

Politics » OSCE Baku welcomes decision of Azeri President


22 March 2005 [03:46]

- Today.Az
The OSCE Office in Baku welcomed the decision of the Azerbaijani authorities to pardon people imprisoned for criminal offences in connection with public disturbances in the aftermath of 2003 Presidential Election.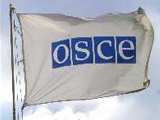 As known, under a presidential decree of 20 March, 114 people have been discharged from serving the remainder of their sentences and released from prison. (AT)

"This move gives new hope for positive development in the country," said Ambassador Maurizio Pavesi, Head of the OSCE Office in Baku.

"We believe it will be seen by all parts of Azerbaijani society as another step towards democratic values".