Today.Az

»

Politics » Armenians sell historic examples of occupied territories of Azerbaijan


05 September 2018 [15:56]

- Today.Az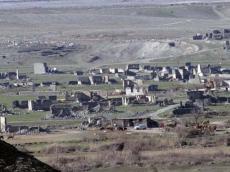 By Azernews
By Naila Huseynli
Armenians put on sale the historic examples that they stole in Azerbaijan's occupied territories in Europe and other countries.
This was stated in the report on "the assessment of the damages and loss of Azerbaijan as a result of Armenia's aggressive policy" prepared by the Public Union on Protection of Historical and Cultural Monuments in the Occupied Territories of Azerbaijan with the support of Council of State Support to Non-Governmental Organizations under the auspices of the President of the Republic of Azerbaijan.
It was noted that the silver handbag, which was taken from the History and Ethnography Museum of Lachin region in 1993, was sold by Armenians at auction of Sotheby's Chr (39) in London for $80,000.
In addition, carpets that were looted from Azerbaijan were put on sale under the name of Armenian brand in the U.S., Germany, France, England, Saudi Arabia and other countries in 1993-2016.
The report says that more than 150,000 samples of cultural heritage, including museum exhibits and paintings, were stolen from the occupied Azerbaijani territories by Armenians, some of them has gone on sale in different countries around the world, some were given to prominent persons, and some are kept in various institutions of Yerevan city.
Moreover, 63 mosques have been completely destroyed by the Armenians in the occupied territories of Azerbaijan, four mosques are unrecognizable. Moreover, 71 tombs which have historical significance, 150 cemeteries, and 250 cemeteries were partly destroyed. More than 1,500 architectural monuments are in danger of being collapse. Also, 50 immovable historical and cultural monuments were repaired illegally and the forms were changed, and wall posts were removed.
The report also states that illegal archaeological excavations were carried out on more than 200 archaeological monuments with the participation of the U.S., Russia, England, France, Spain and other foreign citizens.
The Armenian Church was built illegally in the occupied territories of Azerbaijan. For instance, one church in the Shahbulag pasture of Aghdam , four churches in territory of Khojaly region, three churches in Khankendi city, thee churches in Shusha city, one church on the way to Shusha-Fuzuli, two churches in the territory of Kalbajar, one church in Lachin city, and one church in the Zabukh village of Lachin city.
In 1998, one written stone sample were taken by Armenians from the temple located in the south-west of the Migidere village of the Lachin region, and it is kept under 3437 number in the Matenadaran museum of ancient manuscripts in Yerevan.
Overall, 1,510 cultural institutions, including 365 clubs, 761 libraries, 193 cultural houses, 2,645 historical and cultural monuments, 1,814 architectural monuments, 747 archeological monuments, 64 monumental and memorial monuments, 23 museums, 102,757 museum exhibits, four State Art Gallery, 376 paintings, 4.6 million books, 13 archives, 260,000 archived documents, more than 50,000 items of historical and cultural articles, including household items (carpets, embroidery, belts, household items, etc.) have been destroyed, or misappropriated as a result of Armenian armed aggression.
This activity of the Armenian government is against in accordance with the principles of The Hague Convention of 1954 and Article 9 of the Second Protocol adopted in 1999.
Inhumane policy of Armenia against the historical and cultural monuments of the occupied territories of Azerbaijan is inadmissible under international law and conventions. According to international normative documents regulating the legal status of cultural values, the return of Azerbaijan's movable cultural values which is in sale in the foreign countries should be ensured by the Armenian government.