Today.Az

»

Politics » Armenian saboteur put behind bars on 15-year term


05 May 2015 [16:12]

- Today.Az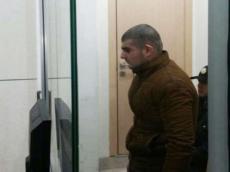 By Mushvig Mehdiyev
Azerbaijan's Ganja Court of Grave Crimes announced its verdict on the criminal case of the Armenian saboteur, Arsen Bagdasaryan.
On May 5, during a court session chaired by Judge Elbey Allahverdiyev, the Armenian saboteur was sentenced to 15 years in prison.
Bagdasaryan, a professional soldier of an Armenian saboteur group, was captured by Azerbaijani servicemen in Aghdam district, as he crossed the Armenia-Azerbaijan contact line in a provocative move, on December 26, 2014. After being taken hostage, he was subsequently handed over to the authorities to be charged for the crimes he committed.
According to witnesses' testimony, two more saboteurs were next to Bagdasaryan during the incursion but they managed to escape. They added that Bagdasaryan first introduced himself as Vazgen Grigoryan, but later on into the investigation revealed his real name and surname.
A criminal case against the Armenian saboteur was filed upon articles 29,120.2.7, 29,120.2.12 and 29,282.2 of the Azerbaijani Criminal Code.
Regular ceasefire violations and incursions into Azerbaijan's territory triggered by the Armenian forces have generated much instability, complicating any hope for a fast and peaceful resolution of the conflict. Resorting to armed incursions rather than intensifying efforts towards reaching a peaceful resolution to the conflict over Nagorno-Karabakh proves Armenia's reluctance to promoting stability in the region.
The conflict in Nagorno-Karabakh was sparked after Armenian troops invaded large swathes of land in Azerbaijan in the early 1990s. Following bloody skirmishes, Armenia armed forces occupied 20 percent of Azerbaijan's internationally recognized and historical territory. The conflict has yet to be resolved since Armenia has systematically refused to abide by international calls to withdraw from the Nagorno-Karabakh and seven other adjacent regions.