Today.Az

»

Weird / Interesting » Fruit, veggies that save office workers


31 August 2018 [15:42]

- Today.Az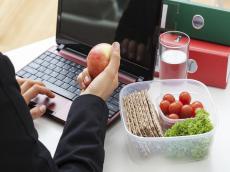 By Azernews
By Naila Huseynli
All we know that it is hard to eat healthy at work. Moreover, if the office workers spend long hours travelling from their homes to their offices they are inactive for up to 12 hours a day. It is also not surprising that office workers tend to have poor eating habits.
There are some fruits and veggies with high water and fiber content, which helps you to feel full and may delay feelings of hunger.
Banana. There are over 1,000 different varieties of bananas growing around the world. Some are sweet, which is the most common and most widely exported. Bananas are great for recharging your body, and even come in their own handy packaging to grab and go. And although bananas are higher in calories than other fruits, they hold unique benefits as a filling snack. Moreover, banana contain tryptophan, a type of protein that the body converts into serotonin, known to promote relaxation and improve mood.  
Apple. The old adage about apples keeping the doctor away just might be true, so eat up. Apples provide a combination of fiber and water that allows them to promote a feeling of fullness. Plus, it's a great way to get healthy, energy-revving carbs and a boost of fiber to keep blood sugar level stable. Apple contains vitamin C and B, as well as Minerals such as calcium, potassium and phosphorus.
Watermelon. Who doesn't love the juiciness of a ripe watermelon? All that liquid is a great way to keep you feeling fuller—just like drinking a glass of water can make you less hungry, so can chowing down on this fruit. Watermelon is over 94 percent water. Therefore, this quintessential summer snack is fat-free, very low in sodium and has only 40 calories per cup.
Watermelon health benefits include managing diabetes, fighting free radicals, support healthy heart, source of energy and water.
In addition to the cruciferous veggies, carrots, celery, spinach, peppers, and artichokes can be very filling. Potatoes and rutabagas are also good options.
Lentils, Beans, and Peas are full of protein, fiber, and other nutrients, legumes are great at helping control your appetite without a lot of extra calories.
Moreover, tomatoes are best known for the fact that they contain lycopene, a carotenoid, which makes you feel full, as well as help fight against chronic diseases. And for all the nutrients it boasts, one medium-sized tomato only has around 25 calories.