Today.Az

»

Arts & Entertainment » Former kickboxing champion, Hollywood actor Gary Daniels: I learned a lot from working with Stallone


04 June 2010 [11:27]

- Today.Az
Lost, exclusive interview with a former kickboxing champion, a hollywood star, Gary Daniels. The Interview was taken on 15th of March, 2009.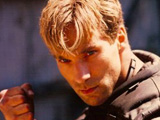 CHAPTER ONE. THE HISTORY.



Gary Daniels is widely known persona among the fans of action and martial arts movies. Former Taekwondo and Kickboxing champion, he, like many of his time switched to acting in the end of the 80s. He is still holding his position as one of the best martial arts actors today.

Gary Edward Daniels was born in Working, Surrey, England on 9 May, 1963. Being a very athletic child, Daniels has played football for the school of his town, and gathered an impressive number of trophies, earning the nickname "Dangerman". At the age of 8, Gary saw a man who forever changed his life, the greatest movie star and martial arts master - Bruce Lee. After watching "Enter the Dragon" Daniels decided that this is what he is going to devote his life to.

Next week, he enrolled in the local school of martial arts. 3 years after, Daniels switches to Taekwondo. He is making progress rapidly, and in 1979, aged 16, receives a black belt and becomes an assistant instructor in three schools in London. The young fighter goes on to winning several ITF (International Taekwondo Federation) tournaments.

Ultimately, Daniels enrolls into the world of full contact kickboxing under the guidance of the ex-British training instructor Mickey Byrne. After many victories, a new goal appeared in front of Gary Daniels – to become an actor. In 1983, a week after he turned 20, Daniels takes a ticket and with only 400$ leaves to Florida, USA.
 
In America, he continues his education, as well as enrolling into an acting class. Suddenly a proposal came – a leading role in a Philippino action movie. Daniels moves to Philippines, where for two years, makes two adventure action movies  (Final Reprisal, Secret of King Mahi's Island). According to Gary himself, working in Philippines was just the needed kind of push into the world of cinema for him.

After returning to the USA, Daniels wins the WKBA (World Kickboxing Association) California State championship. He also studies Muay Thai, Taijitsu, Aikido, and after meeting Winston Omega goes on to study Sillum Wong Ka Kune (Shaolin Wong family fist) with him.

Later on he becomes a regular performer in the action and martial arts oriented movies, starring with such stars as the Don "Dragon" Wilson, Jackie Chan and Malcolm Mcdowell.

"Tekken" - a movie starring Daniels, based on a popular computer fighting game will be released in the near future. Daniels will also be appearing on screen in the Sylvester Stallone directed action blockbuster "The Expendables", with such stars as Arnold Schwarzenegger, Mickey Rourke, Jet Li, Dolph Lundgren and Jason Statham. Breaking away from his duties, Mr. Daniels kindly agreed to answer a few questions.




CHAPTER TWO. THE TALK.





Gary, first of all thank you for finding some time for answering the questions. You seem to be in tremendous shape, as seen in your latest pictures from the new "Tekken" movie. Do you have some special workout to follow?



I don't have a special workout but I am very consistent. Each week I run, lift weights, hit heavy bags, jump rope, stretch and keep up with my martial arts training. And I eat healthy food and don't drink or do drugs. I believe in a healthy lifestyle.



You returned to kickboxing, after starting in the movie business, and won the California State championship by WKBA. What year was it?



I won the WKBA title back in the 90's. I have been training in Thailand quite a lot over the past 5 years and fought there 2 years ago, but I lost by a point decision. Unfortunately, I injured my calf muscle playing football before the fight, so i couldn't do any road work but it was a good experience to see where I was at physically and mentally regards to fighting.



Not all martial arts actors are capable of  keeping up the pace with such people as Jackie Chan, Donnie Yen and Jet Li. Richard Norton and Cynthia Rothrock worked in Hong Kong productions a lot, and got used to it. You had a chance to work with Jackie and Richard back in 1993 on "Street Hunter". Tell our readers a little about that experience.



Working with Jackie and his team was a great experience for me, it came early in my career so it was like going to action film school for me, I was like a sponge soaking up everything I could. It was very hard work, the Hong Kong action directors are the best, but you have to give 110 percent. Richard is a great guy and it was a pleasure hanging out with him.



Which of your movies you yourself like most?



I like different movies for different reasons, but I think "Spoiler" (1998), "Recoil" (1998) and "White Tiger" (1996) were some of my favorite experiences.



"Spoiler" is different from what you usually star in. It's a sci-fi drama, rather than a futuristic action movie. What made you accept the part?



"Spoiler" was a great script, and as an actor I don't want to play the same kickboxing cop kind of roles all the time, I am always looking for something different, a new challenge, and was very happy with "Spoiler".



A question that seem to bother a lot of your fans - which of yours onscreen fights was the best in your opinion? Whom of the people you fought, you would rank as the toughest?



I cannot think of any movie opponents as being tough, it is not a real fight, it is choreographed, we just act tough on screen. I can't say I have a favorite fight because I have done so many, and each one has its own style and character, depending on what choreographer I worked with. As for the real fighting , Don Wilson is probably the toughest.



How is a fight scene is made on the set? What part does screenwriting have in it?



Most writers do write a descriptive fight even if it is just to fill out the pages, but it is not necessary, as the choreographer will usually do it his own way as he has to work with the limitations of the actors and the locations. What is important for writers, is to put in the requisite story and drama points that need to be in the scene to move the story along and any character traits you can add for the performers.



You starred in "Submerged" back in 2005, with Steven Seagal. There were some rumors, that Seagal was trying to cut you out of the picture, so that's why his fight with you was so short and unreal...



Every leading man has his own vision of films, and how he wants to see action performed. These visions of course differ sometimes. Seagal had his own vision, different from mine, but I have to learn to adapt to leading men's choices, whether I personally agree with them or not. Seagal didn't really want me there so he tried to cut me out as much as he could. I was disappointed.



Your work in Dolph Lundgren's "Retrograde"... Some claim that Lundgren did to you the same Seagal did in "Submerged", and cut your part. Other rumors say that your part was small due to budget constraints. Please shed some light on this.



Things are constantly changing on movie sets, my original part was changed to another role. A lot of sites like to post negative stories, but I try to respect everyone I work with. It is a business and personal feelings must be put aside for the best interest of the film. But it had nothing to do with the budget!



Your latest project "Tekken" is based on a popular computer fighting game. Are you familiar with the game itself and your character? What was the working experience like?



Actually, I was not so familiar with "Tekken" when i was offered the part, so thank God for the Internet and Youtube, which gave me a chance to research the game and the character. It was a good experience, such a professional crew, a good director and a good cast of fighters and actors. I have high hopes for this film after seeing some of the cut footage. I will also have a small part in the upcoming Sylvester Stallone movie "The Expendables".



You mentioned "The Expendables". Stallone directs the movie, as well as stars in it, along with Mickey Rourke, Arnold Schwarzenegger, Jet Li, Dolph Lundgren and Jason Statham. What is your part in the movie?



I will play a bad guy, and will fight with Jet Li and Jason Statham. Of course, things can change as they usually do on film sets. It's a great project to be involved with. I feel I can learn a lot from working with Mr. Stallone.



How do you think the economic crisis affected the movie industry? It seems like the money is still being spend on movies, maybe even more than before.



The economic crisis has affected the industry, especially the "B-movie" industry. As the worlds economies crash, they cannot afford to pay so much for movies, so that means less profit for producers and so budgets have been driven down, and a lot of smaller companies have gone out of business. I don't think it has affected the studios so much.



Most of those movies you've made in the 90s, are considered B-action-movies. They are fast, entertaining, and don't take themselves too seriously. That's why the fans love them so much. Would you rather get a minor part in a big Hollywood blockbuster, continue being a b-movie-action star, or just participate in a project if its interesting enough?



Actually all of the above. As an actor you don't want to be doing the same thing all the time. The grass is always greener on the other side, so when you are doing leads in "B-movies", you get the feeling that you would rather be doing smaller parts in bigger, more respectable films, but when you get the smaller parts you miss being the lead as the lead is more involved in all aspects of the film making process. Sometimes it's nice to do a straight dramatic role but then you feel like you are not giving all you have to give.



What plans does Gary Daniels have in the future, when he won't be able to fight anymore? Continue acting, directing maybe, or change of profession?



The demand is different nowadays, not so much "knock down-drag 'em out" action movies. I still love to do action, but I have been getting different kind of scripts offered to me. It's nice to do different things, but of course I love to do the action still. No one knows the future, but you have to be able to adapt to the times and go with the flow. I will continue to stay in shape in case I am asked to do action, for as long as I can. I would like to direct but also I will be looking for different roles that might further my career. I hope to work with more accomplished directors, writers and actors to make my career more productive.




CHAPTER THREE. THE CONCLUSION.



In the world of professional sports Gary Daniels has already proven himself. On screen, He was ranked among the best of the "B-movie" action stars, such as Lorenzo Lamas, Don "The Dragon" Wilson, Jeff Wincott, Matthias Hues and a few others. Today, movies are not the same, and the heroes have changed as well. It's hard to name a strong action hero. Schwarzenegger enjoys sitting in the governor's chair, Chuck Norris is retired, Jean Claude Van Damme switched to "more advanced roles", and Steven Seagal is just a shadow of what he used to be.

Gary Daniels is one of the few action stars who have enough charisma and skills to keep the audience interested. Last few projects of Gary Daniels are hardly in the "B" category. First the Chinese TV Series "The Legend of Bruce Lee" (2008), then "Tekken", and now "The Expendables".

"Dangerman" – is a team player. These players do not always start the game, but can always be counted on in the crucial situations. The importance and values of such players are measured by those moments.




T. Teymur




/Today.Az/





Click pictures to enlarge:




Gary with Wesley Snipes on the set of "Game of Death" (2010)
Daniels with Steve Austin on the set of "Hunt to Kill" (2010)
On the set of  Sylvester Stallone's "Expendables"
On the set of  Sylvester Stallone's "Expendables" with Steve Austin and Eric Roberts
On the set of  Sylvester Stallone's "Expendables" with Jet Li
On the set of  Sylvester Stallone's "Expendables" with Jason Statham
"White Tiger" (1996)
On the set of  Sylvester Stallone's "Expendables" with Dolph Lundgren
On the set of  "Expendables" with Sylvester Stallone
With Jackie Chan on the set of "City Hunter (1993)
With Jackie Chan on the set of "City Hunter (1993)
Gary Daniels and Gary Busey
Daniels vs Jackie Chan in "City Hunter" (1993)
On the set of "Fist of the North Star" (1995)
Gary with Cary Hiroyuki-Tagawa, shooting "White Tiger" (1996)
Gary with Steven Seagal, on the set of "Submerged" (2005)
"Legend of Bruce Lee" TV series (2008)
"Legend of Bruce Lee" TV series (2008)
"Legend of Bruce Lee" TV series (2008)
"Legend of Bruce Lee" TV series (2008)
Gary Daniels in "Tekken" as Bryan Fury