Today.Az

»

Arts & Entertainment » Keiko Matsui's music captivates hearts of Baku music lovers [Concert review]


01 February 2023 [13:46]

- Today.Az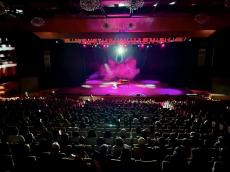 Sometimes, music can take us to the enchanting world of music, where everything seems possible.
From the sounds of ocean waves to calming forest nature, all of nature's gifts inspire Japan's acclaimed pianist Keiko Matsui to create incredible music, which captivates the hearts of millions worldwide.
The musician's concert in Baku united piano music lovers from all over the country.
Without exception, everyone at the Heydar Aliyev Palace fell under the spell of Keiko Matsui's music.
She brilliantly blends Western and Eastern music. The pianist sees music as a great gift of human souls from the past, for the children of the future and believes that music has the power to bring people together and change their lives.
Being a nature lover, Matsui often makes reference to plants, animals, and other natural phenomena in her song titles.
"We are connected by music as the ocean connects the continents," she once said.
During the concert, the pianist performed songs from both old and recent albums, including Keiko Matsui's original composition "Tears of the Ocean".
As the musician said, the ocean holds tears of happiness and sadness. This heart-touching music piece left no one indifferent.
During the concert, Keiko Matsui interacted with the audience, enthusiastically speaking about the histories behind her songs.
After the concert, the audience didn't want to let the artist go off the stage. The spectacular concert left a lasting impression on all the guests.