Today.Az

»

Arts & Entertainment » Don't miss Holi Color Festival 2018


26 July 2018 [13:23]

- Today.Az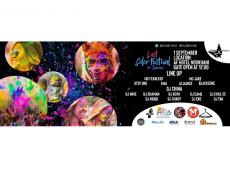 By Azernews
By Laman Ismayilova
Holi Color Festival, celebrate across worldwide, will be held on the Caspian Sea shore this year.
The festival will take place in AF Hotel & AquaPark Novkhani in September. The festival starts at 12:00.
The Festival of Colors is an open-air event modeled on one of India's most ancient and colorful customs - the Hindu Holi festival. It's about the triumph of good over evil.
Although the festival originated in India and is still widely celebrated there as a religious festival, it has been adopted in many places around the world.
The event is enjoyed by millions of people all over the world.
The key ritual of Holi is the throwing and applying of colored water and powders on friends and family, which gives the holiday its common name "Festival of Colors." It's the way of carrying the message of love and happiness across walls, neighbors, and hearts.
Tons of colorful powder, entertainment and great music await you  on the Caspian Sea shore.
Mc Fearless, Mc Jake, Dj China, Dj Mike, Dj Ken X, Dj Came, Dj Eko, Dj Shagy, Dj Chill-ee, Dj Tim, Dj Shaman, Dj Nicko will enjoy the guests with their performances and incendiary tracks. Special guest - DJ Alex. Step One, Fma, Alliance, Blackzone are in the festival's program.
Ticket price: Standart - 15 AZN ( $ 8). It includes 2 packs of colors. Vip ticket price is 50 AZN ($ 29). It includes 5 packs of colors,entrance to the pool. Tickets can be purchased at Backstage, Coffee Break, Boon Az.
For more information, please contact: (051) 5511051 or (051) 3004140