Today.Az

»

Arts & Entertainment » Turkish Fine Arts presented in Baku


14 May 2015 [14:49]

- Today.Az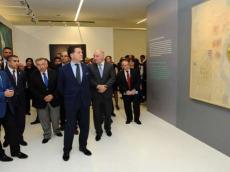 By Nigar Orujova
The Heydar Aliyev Center presents modern Turkish art with an exhibition 'The imagination, space and time in modern Turkish fine arts' from May 13.
The exhibition, presented in Baku for the first time, has been organized jointly with the Central Bank of Turkey.
Addressing the opening ceremony, Executive Director of Heydar Aliyev Foundation, Anar Alakbarov, Turkish Ambassador to Azerbaijan, Ismail Alper Coskun, Head of the Central Bank of Azerbaijan, Elman Rustamov, Deputy Governor of the Turkish Central Bank, Necati Sahin and others stressed the importance of the exhibition.
At the Heydar Aliyev Center in Baku, the exhibition is open to the public until July 31. This mean that guests of Azerbaijan during the inaugural European Games in June will also have a chance to enjoy it.
Art lovers will be able to follow the dynamics of development and change in the visual arts in Turkey.
The Central Bank of Turkey, since the early years of the formation of the state, has decided to create a collection of art to support the development of culture and art.
The collection is formed from works by prominent representatives of the Turkish school of painting since the second half of the 1930s until present day. From 2003 to date, the collection has been presented in 16 countries by means of 18 exhibitions.
The unique works were presented at exhibitions held in the U.S., Germany, Albania, Austria, Bosnia and Herzegovina, Bulgaria, Cyprus, Luxembourg, Chile, Spain (Madrid and Barcelona), Macedonia, the Netherlands, Russia (Kazan and Ufa), Poland, Japan and Malaysia.
The Heydar Aliyev Center has become an art hub presenting the most prominent art exhibitions from around the world to Azerbaijanis and guests of the capital.