Today.Az

»

Arts & Entertainment » Azerbaijani film becomes best in Film Festival


03 March 2015 [10:50]

- Today.Az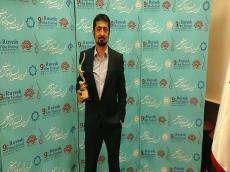 /By AzerNews/

By Amina Nazarli
Azerbaijani filmmaker Fehruz Shamiyev's "Road" film was named the best movie in the international section of the ninth Ruyesh Short Film Festival in Tehran, Iran on February 24-27.
Shamiyev said that the film won the nomination for "Muslim countries."
A screening of the film was held on February 26, on the 23rd anniversary of Khojaly genocide committed by Armenians. Some 613 civilians mostly women and children were killed in the massacre, and a total of 1,000 people were disabled. Eight families were exterminated, 25 children lost both parents, and 130 children lost one parent.
The film was shot based on the work of Elchin Huseynbeyli "The Sun Dazzles my Eyes". The film slogan is "Die Where Was Born." The film shooting took place in Baku, Shamakhi and Agsu.
The film scriptwriters are Fehruz Shamiyev himself and Azerbaijani writer Elchin Huseynbeyli. The main parts are played by Gabil Guliyev and Rauf Shahsuvarov.
The film's hero - a professor, was born in Karabakh, but lived in Baku for many years. Before his death, he wants to return to his native land. For the sake of his dream and the longing of his hometown, the professor passes through a minefield and returns to his native village where he is eventually captured by the Armenian invaders.
"War in Safe Areas" directed by Mohammad Alsaed from Lebanon won the award for best documentary.

"Painting Sheet in the Media" by Syrian director Lama Tayara and "Twins" by Algerian filmmaker Ahmed al-Amin shared the award for best animation.
The event was organized by the Art Bureau of Iran's Islamic Ideology Dissemination Organization.
--