Today.Az

»

Business » Q1 trade between Azerbaijan and Russia advances 20%


25 April 2007 [14:37]

- Today.Az
The trade between Azerbaijan and Russia grew 20.4%, year-on-year, during the first quarter, said Head of the Russia's Trade Office in Azerbaijan Yuri Shedrin.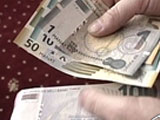 He added that Russia's imports from Azerbaijan doubled while exports remained stable. "For the first quarter Azerbaijan exported pipes and sugar to Russia," noted.
The trade between the two nations reached $1.5 billion for the full year of 2006.
"Unlike last year, gas imports worth $500 million were removed for this year while Russia didn't reduce imports.
We are not satisfied with the structure of trade. Azeri market is hungry for Russian investment," he added.
In 2006 Russia invested some $2.7 million in Azerbaijan while Japan invested $11 million, United Arab Emirates $18.3 million and Turkey $139 million.
He underscored that the difference between statistics of Azerbaijan and Russian customs services is $70 million. "We should dwell on this issue," he noted. APA-Economics