Today.Az

»

Business » Emergencies Ministry inspect establishments for fire safety


25 April 2007 [09:17]

- Today.Az
Fire safety is not observed in some buildings, as well as the majority of establishments in Baku, Etibar Mirzayev, Deputy Emergencies Minister said a briefing on April 24.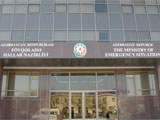 He said that Emergencies Ministry Fire Safety Control Service inspected over 100 establishments in Baku. The establishments failing to adhere to fire safety rules were suspended, and some were warned to eliminate the shortcomings.
Mirzayev said that 24 were killed during fire accidents in the past four months this year. This figure was 20 in 2006.
"Propane bags, gas system, blocking emergency exits in big trade centers, wedding places and other establishments cause difficulties in extinguishing fires. If these shortcomings are not eliminated, corresponding measures will be taken about these establishments," he said.
Mirzayev added that the Ministry sent letters of warning to the owners of some multistory buildings, APA reports.
"These buildings will not be allowed for usage, if fire safety measures are not taken," he said.
Etibar Mirzayev said that cisterns have been bought to strengthen the logistics of firefighting teams. The Ministry plans to buy 230 cisterns and firefighting equipment by the year-end.
Officers of Emergencies Ministry today conducted raids in some establishments along with journalists. They observed disobedience with fire safety rules and potential danger in most of the establishments.