Today.Az

»

Business » South Korea, Azerbaijan agree to increase economic cooperation - UPDATED


23 April 2007 [14:37]

- Today.Az
The leaders of South Korea and Azerbaijan agreed Monday to increase economic ties between the two countries, part of Seoul's campaign to expand relations with oil-producing nations to feed its development.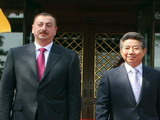 "South Korea has world-class technology in developing energy resources like oil and gas," South Korean President Roh Moo-hyun told reporters after a meeting with Azeri President Ilham Aliyev. "We are also very passionate about developing energy because we really need energy resources."
South Korea is poor in natural resources and imports almost all of its oil.
Aliyev said his country's rich natural resources and South Korea's technology can be combined to yield benefits for both parties, stressing he welcomed South Korean investment.
Following the hour-long summit, the two leaders signed various agreements on cooperation in a range of fields including energy, construction, transportation and telecommunication — along with pledges to increase exchanges in culture, education and tourism.
The statement also called for the simplification of visa issuance procedures for visitors from each other's countries, the signing of investment guarantee and dual tax avoidance accords and South Korea's support of Azerbaijan's membership of the World Trade Organization.
"We also have abundant experience and technologies in the construction of roads, railways, ports, power plants and shipyards, and are very willing to expand overseas investments. The South Korean government has recently established a special task force on deepening economic relations with Azerbaijan," Roh said.
Aliyev's three-day trip to South Korea that began Monday marks the first visit by an Azeri leader here since the two countries established diplomatic relations in 1992 after the Caspian Sea nation's independence following the Soviet collapse. The Associated Press, Yonhap