Today.Az

»

Business » Azerbaijan can carry out TEA project


07 February 2007 [10:10]

- Today.Az
"Azerbaijan can carry out Trans-Europe-Asia (TEA) line project. It is to benefit of this country," said Dr. Roald Sagdeev.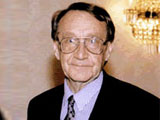 Sagdeev, Distinguished Professor of Physics at the University of Maryland and Director of SilkSat, a telecommunications project utilizing small satellites, Director Emeritus of the Space Research Institute, the Moscow-based center of the Russian space exploration program, said Azerbaijan wants to become large info center in the region, distribute here the information coming from the West.
He said this work doesn't require much investment, but needs computer servers and communications lines.