Today.Az

»

Business » Commission on Russia-Azerbaijan economic partnership to meet


26 January 2007 [00:34]

- Today.Az
"Our trade and economic partnership is the basis of the relations between Azerbaijan and Russia," said representative of Russia's Trade mission to Azerbaijan Yuri Shedrin.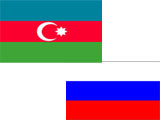 He told the APA that the trade turnover between the two countries was $1bn in 2005 and $1.5bn in 2006.
"We intended to increase it by $2bn in 2007. But unfortunately, we have problems this year. Azerbaijan and Russia have not reached an agreement on gas transportation," he said.
Shedrin said that the meeting of Intergovernmental Commission on Russia-Azerbaijan Economic Partnership will be held in April this year. The co-chairs of the commission Yagub Eyyubov and Victor Khristenko will lead the meeting.