Today.Az

»

Business » Indonesia, Azerbaijan explore cooperation in oil and gas sector


18 January 2007 [21:49]

- Today.Az
In a sign of a more concrete relations between Azerbaijan and Indonesia, ministries and companies from both countries have explored possible cooperation in education, transportation and energy.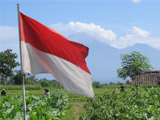 In energy sector, both government officials and private sector have exchanged ideas on how they can embark on cooperation in oil and gas sector.
Azerbaijan Ambassador to Indonesia Ibrahim A. Hajiyev said that state-run oil and gas company Pertamina recently, for instance, had submitted to Azerbaijan government a proposal on possible cooperation in oil and gas sector for both countries.
"We have sent the proposals to our foreign ministry and our state committee on oil in Azerbaijan. They are now considering the proposals," he said during a press gathering at the Azerbaijan embassy on Thursday.
Hajiyev added that Azerbaijan and Indonesian companies have very good prospects in investing in both countries' oil and gas sector.
Located along petroleum-rich Caspian Sea, Azerbaijan, a nation of 8.5 million people, majority of them are Muslims, has huge oil and gas reserves.
With its booming oil industry, Azerbaijan was the world leader in economic growth last year, with 34 percent GDP growth from January-October 2006 while Indonesia, home to the world's largest Muslim population is Southeast Asia's biggest economy.
In transportation and education sectors, Azerbaijan has submitted its draft of treaties directly to the ministries to get a reciprocal responses.
"They have replied with their proposals. In general, they are acceptable for us. The final negotiation will take place, and the treaties will be signed soon. Transportation agreement will coveronly the air," Hajiyev said.
He said the agreement in education sector would enable both countries to have exchange of students.
Foreign Ministry director for South and Central Asia Mohamad Asruchin said that Indonesia and Azerbaijan will formalize its relations with establishment of a joint commission, paving wayfor regular meetings between officials from both countries.
"We already have draft agreement of establishing the joint commission. As a facilitator, foreign ministry hopes that private sector to seize business opportunities in Azerbaijan, and other Central Asian states.
Asruchin said that Indonesia could send skilled labor to Central Asian countries, especially in construction sector. The Jakarta Post