Today.Az

»

Business » Printing prices in Azerbaijan Publishing house to depend on paper editions


18 January 2007 [01:23]

- Today.Az
"Azerbaijan Publishing House hesitates in increasing printing prices. Therefore the rise of prices may delay," said Besti Ismayilova, Deputy Director of Azerbaijan Publishing House.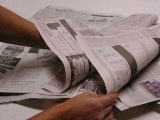 She told the APA that though the publishing house was expected to announce new printing prices on Wednesday, the calculations have not finished.
"We approach printing prices of every newspaper individually. Electricity, gas and water expenses are taken into consideration. The printing price of every newspaper will be raised depending on its edition," she said.
She also said that the newspaper chiefs will not be informed about it.
As to rental prices for rooms Ismayilova said that they are expected to rise by 50% and it will be announced soon.