Today.Az

»

Business » Azerbaijan-UNDP agree on two renewable energy projects


17 January 2007 [14:43]

- Today.Az
UNDP Resident Representative Marco Borsotti and Azerbaijan's Industry and Energy Minister Natig Aliyev signed two projects on renewable energy development.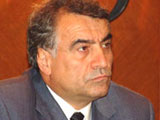 Natig Aliyev said Azerbaijan is self-supplied with energy and always needs energy.
"Azerbaijan can increase its energy resources over 4 billion to 5 billion kilowatts thanks to renewable energy sources. Through small hydroelectric stations, Azerbaijan can cover energy needs in rural areas," he said.
Borsotti said Azerbaijan is one of the key players in energy supply.
Norway-funded Project on Technical Assistance for Development of small water power stations in Azerbaijan will create active competition in hydroelectric generation in the country.
At Phrase 2, an action plan will be developed within the project on Technical Assistance for elimination of obstacles to development of sustainable and commercial wind energy by the Global Ecological Fund and UNDP.
The both projects will contribute to the development of non-oil sector, diversification of energy resources, reduction of poverty and employment.
The project will be implemented by the Industry and Energy Economic Development, Ecology and Natural Resources Ministries, UNDP, Norwegian Government, Azerbaijan National Academy of Science, Azerenergy. APA