Today.Az

»

Business » Azerbaijan delays gas supplies to Georgia


11 January 2007 [01:31]

- Today.Az
The start of natural gas supplies from Azerbaijan to Georgia has been delayed for two days till January 12.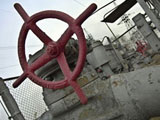 "In the subsequent 10 days a total of 30 million cubic metres of gas will be transported to the neighbouring country from Azerbaijan's own resources," First Vice President of Azerbaijan's State Oil Company (SOCAR) Khoshbakht Yusifzade told Itar-Tass on Wednesday.
According to the company Azerigaz, gas will be supplied to Georgia by the Kazi-Magomed-Kazakh pipeline, which was connected to the Georgian gas distribution network in Soviet times.
Azerbaijan will supply 90 million cubic metres of gas to Georgia in wintertime.
An agreement on gas supplies from Azerbaijan to Georgia was reached at the end of December during Georgian Prime Minister Zurab Nogaideli's working visit to Baku. The volume was set at one million cubic metres a day but was corrected later.
Georgia needs five million cubic meters of natural gas a day and 1.8 billion cubic meters a year.