Today.Az

»

Business » Armenia interested in Transcaspian Pipeline Project


09 January 2007 [21:14]

- Today.Az
Armenia is looking to benefit from an ambitious project to build a natural gas pipeline that would stretch from Central Asia to Turkey and Europe via the Caspian Sea, Foreign Minister Vartan Oskanian said on Tuesday.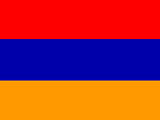 The idea of putting in place a new export route for the Caspian region's rich hydrocarbon resources was actively promoted by the United States in the late 1990s but never got off the drawing board for geopolitical and economic reasons. The European Union is now trying to revive it as part of a long-term strategy of easing Europe's growing dependence on Russian gas.
The EU hopes that work on the 3,300 kilometer pipeline, dubbed Nabucco, will start in 2008 and end in 2011. The pipeline would pump gas from Azerbaijan, Turkmenistan and Kazakhstan and have a maximum capacity of 30 billion cubic meters per year.
According to Oskanian, official Yerevan regards the $5.8 billion project, which was formally approved by five EU nations last June, as an opportunity to further diversify Armenia's energy resources in the long run. "Armenia will try to have some involvement in that project," he said.
"No practical steps are being taken in that direction yet. But negotiations are going on, and we are trying to be involved in those discussions in order to ensure the diversification of our gas supplies," he added without elaborating.
Azerbaijan is extremely unlikely to agree to Armenia's participation in the project before a resolution of the Nagorno Karabakh conflict, though. Besides, the Transcaspian pipeline would almost certainly link up with a newly built pipeline that will soon start delivering Azerbaijani gas to Georgia and Turkey, suggesting that it would bypass Armenia in any case.
Armenia will instead be able to receive gas from neighboring Iran through a much smaller pipeline. Officials in Yerevan and Tehran say work on its first Armenian section has all but been completed. A senior Iranian official reportedly said over the weekend that his country is ready to start supplies "at any moment."
But Oskanian insisted that the 40-kilometer facility still needs to undergo technical tests. "The pipeline is physically complete. We just need to test it," he said, adding that Iranian gas will therefore not start flowing into Armenia before March.
In the meantime, Russia will remain Armenia's sole gas supplier. Russian energy companies, notably the Gazprom monopoly, also own the country's gas and electricity distribution networks as well as several major power plants. Furthermore, the Armenian government is widely expected to give Gazprom a controlling stake in the pipeline from Iran. RFE/RL