Today.Az

»

Business » Health Ministry stopped activity of Diamed private medical enterprise


28 June 2006 [21:25]

- Today.Az
Ministry of Health has decided to stop the activity of Diamed private medical enterprise.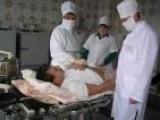 As APA reports, analyses of two patients infected with Heratit C virus has been examined in 10 private medical enterprises' laboratories in Baku at the same time.
Laboratory analyses showed different results. It is stated in the information that related to the fact check-up was conducted in medical enterprise with participation of Economic Development Ministry, as a result of which serious shortcomings have been found in Diamed.
It was known during the investigations that Diamed branches in Baku city, Nizami region, Gara Garayev Avenue 54, and Mingechevir branches operate without any license, as well as many of the facilities used in the laboratories have no licenses.
It was stated from the Ministry that, the enterprise has not got Standardization, Meteorology and Patent Agency related to the equipments used in the enterprise. Taking into consideration the above said and activity of the enterprise which might affect the health of the people the activity of Diamed private medical center has been stopped.
The activity of Diamd private center might be looked into if the said shortcomings removed. Check-ups in other private medical enterprises are continued.