Today.Az

»

Business » BBC: "First cargo from Caspian pipeline"


26 May 2006 [19:25]

- Today.Az
The first cargo of oil from a $4bn (?2.2bn) pipeline between Azerbaijan and Turkey will be loaded onto a tanker this weekend - a year behind schedule.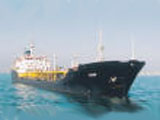 The crude flows 1,768km from the Caspian Sea direct to the Mediterranean for the first time, bypassing Russian pipelines and Turkish straits.
About 300,000 barrels a day will be pumped from the pipeline this year - set to rise to a million barrels daily.
But not all the oil on the tanker comes from the new pipeline, it has emerged.
BP, which has a 30.1% stake in the project, said that while all the crude had come from the Caspian Sea, some had been held in its storage tankers.
The Baku-Ceyhan Campaign, which argued against the pipeline on human rights, social and environmental grounds, said this had been done to try and cover up the delays to the project.
These were "most likely caused by construction failures, inappropriate use of materials and lack of environmental safeguards", it said.
But BP denied the allegations with a spokesman saying it was "perfectly standard practice" to load tankers with oil from pipelines and storage facilities.

Work building the pipeline began 10 years ago and shareholders also include Azeri state oil firm SOCAR, Eni and Total.
The pipe begins near Baku in Azerbaijan and passes through Georgia.
Previously states in the region sent almost all of their oil via Russian pipelines.
The Caspian area produces high-quality light crude but has suffered because of difficulty getting the oil to consumers in Europe, the US, China and Japan.
/www.bbc.co.uk/