Today.Az

»

Business » III Azerbaijan Microfinance Conference launched in Baku


26 May 2006 [15:38]

- Today.Az
Azerbaijan Microfinance Association (AMFA) has launched III Azerbaijan Microfinance Conference today in Baku, which will continue 2 days.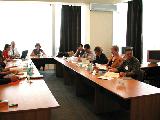 Eldar Jafarov, AMFA Control Council Chairman, has stated that AMFA member non-banking organizations have $80 million active credit portfolio in the inauguration of the event. He has added that those organizations with 80 thousand clients have spent more than $238 million to small and medium sized enterprising. Risks are at about 0,6% level. Mr.Jafarov has noted that there is a need for special law on micro-finance and specification of non-banking credit organizations.
Elman Rustamov, the Azerbaijan National Bank (ANB) Board Chairman, has said that the Draft Law on Micro-Finance is under discussion of all sides, APA informs.
"The Government must make a conceptual program of micro-finance development together with ANB. Azerbaijan waits big incomes and, in the context of this, it is necessary to develop micro-finance sector in Azerbaijan. We have asked for international donors' assistances in this sphere," he said.
Jason Hyland, the US Charge d'Affaires to Azerbaijan, made his focus on need for micro-finance advancement in Azerbaijan. On his words, the US has financed $20 million to this sphere which was spent as micro-credits to regions.
"We support projects run by the Economic Development Ministry with the finance of state budget. The US are willing to lend his hand for this," he stated.
Credit legislation and legal regulation environment, transparency initiatives and associations' presentations were discussed later. Participants were presented a research on Evaluation Criteria in Azerbaijan Microfinance Sector, conducted by AMFA with the support of UNDP and BP.