Today.Az

»

Business » Preliminary work on Sheki module power plant is over


28 February 2006 [09:19]

- Today.Az
Construction of the Sheki module power plant is intensively implemented.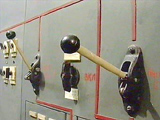 As APA reports, ground work is currently underway. This information was spread by the press-service of the Azerenergy Open-Joint Stock Company (OJSC) and the director of the AZENCO Company of Azerbaijan (subcontractor of the project) Javid Shalbuzov.

"Geodesic, geologic, and topographic investigations were conducted in 12.5 hectares of territory in a short space of time and the territory was leveled", - Shalbuzov said.
He noted that a seating would be laid for the two generator halls, control board, radiator equipment and smokestack of the power plant. At the same time, the foundation of main lines and portal was also laid in the place where the 110 kilovolt substation will be established.
Numerous building equipments of AZENCO (excavators, bulldozers, truck cranes, concrete mixers and etc.) were brought to the territory for implementation of these works.

According to Shalbuzov, container-offices (to accommodate workers' headquarters of the Wartsila, ABB, Ward Companies participating in the project) are also established, a canteen for 150-200 persons was built as well. Works on illumination of the building site and water supply are also about to be completed.
It should be noted that 130 workers have been drawn into these works and more than half of them is local population. "400-500 workers will be attracted to building and installation works. Provision of local population with jobs will considerably facilitate solution of the social problem of the region", - Shalbuzov concluded.