Today.Az

»

Business » Abbas Abbasov: "Government to assist broiler enterprises"


24 February 2006 [18:16]

- Today.Az
Government may cover the losses of broiler enterprises.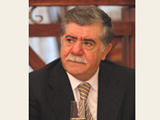 The Azerbaijani government is considering opportunities for assisting the broiler enterprises in connection with their crisis due to Bird Flu epidemi, Trend reports quoting Abbas Abbasov, First Deputy Prime Minister, also the chairman of the State Commission on Bird Flu prevention as stating on Friday.
"H5N1 virus has spread throughout and all countries take definite measures to ensure the nation's security. In this case the economic issues recede into background, as there is nothing valuable than human health," Abbasov underlined.
The chairman of the State Commission said that even in absence of goods turnover, the broiler enterprises will continue production at poultry, they continue using forage, consume energy, and have different expenses. "Now we are thinking of how to assist them," Abbasov underlined.