Today.Az

»

Business » Compensation for legal buildings to be paid according to market prices


23 February 2006 [10:32]

- Today.Az
Special commission to conduct inventory of buildings to be pulled down pursuant for construction of new motor roads.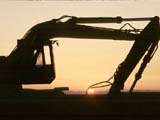 As APA reports, the Minister of Transport Ziya Mammadov said that the commission defines the number and legality of such buildings.
According to the Minister, compensations for legal buildings will be paid on basis of existing market prices.
As to illegal buildings, Mr.Mammadov said that special rules concerning this issue had been prepared. The Minister also did not exclude some concessions for owners of illegal buildings and explained it with some buildings being constructed 100 years before.

Mr.Mammadov informed that destruction of establishments erected in guard bands of motor roads and railroads will also be started soon: "The main initiator of construction of illegal buildings in guard bands of roads is local executive authorities and municipalities. They coordinate their permissions with neither the Ministry of Transport nor Ministry of Internal Affairs, and as a result, it is difficult for us to control this process".