Today.Az

»

Business » Caspian Shipping spent about $50 mln for procurement of tankers


27 May 2005 [13:02]

- Today.Az
Azerbaijan state Caspian shipping purchase new tankers for transportation of Kazakhstan oil by pipeline Baku-Tbilisi-Ceyhan (BTC), the agency Trend reports, the deputy chief of Caspian shipping Tofik Masurov informed about this.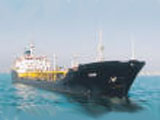 He said, Caspian shipping purchased for 2 years 7 tankers of different capacity. For purchase of these tankers about $50 mln was spent. "2 tankers with capacity of 8 mln tons "Jalil Mammadguluzade", "Aziz Aliyev" were purchased in 2003. 2 tankers with capacity of 13 mln tons were purchased in 2004, the tanker "President Heydar Aliyev" was commissioned in November 2004 and the second tanker "Babek" was commissioned in December", he said.

It is envisaged to purchase the third one on 2005. Additionally two tankers are to be purchased in 2006. "After the purchase of 5 ships by this project Caspian shipping will stop purchasing, these ships will allow covering present demand. However, in future stream of cargo increases,
then the issue on purchase of new tankers may be considered", he added.   

Presently, Caspian shipping possesses 80-81 ships, 34 of them are tankers.

He also mentioned Caspian shipping developed program on reconstruction of 10-12 one-board ships. The capacity of each of them is 7 thousand tons.

Caspian shipping is not interested to liquidate these ships. That was why it was agreed to reconstruct them. "Expenses for reconstruction will depend on results of diagnostics of tankers", T.Mansurov noted.