Today.Az

»

Business » GTZ to hold seminars for judges of Sheki, Guba, Gyanja


18 May 2005 [21:14]

- Today.Az
In late May the German Society for Technical Assistance (GTZ) plans to hold seminars in Sheki and Guba, and late June in Gyanja for local judges, GTZ reports, according to Trend.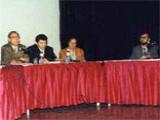 Seminars will be held in the framework ?f the project "Support to judicial and legal reforms in Azerbaijan" aimed at the improvement of the judges' work.

They will be dedicated to the subject "A number of issues on study and assessment of evidences at civil processes".  

Judges of the first instance used to participate, as a rule, at the seminars. The seminars are targeted at the clarification for their participants methods of work and technique for application of judges' rights on civil cases based on the practical complex legal cases in accordance with new laws, adopted in the country at the result of reforms.

The first seminar on this topic was held for judges of southern districts of Azerbaijan on 13 May 2005 in Masalli.  The seminar was run by the manager of the project "Support to judicial and legal reforms in Azerbaijan", Tomas Hermann and the judge of the Surakhan disctrict court, Vefaddin Ibayev.  

The GTZ report notes, that seminars held, caused a deep response among the participants. Anonymous poll on seminars' results showed that all judges considered these seminars useful for their work and wished to increase their frequency. Therefore, GTZ jointly with the Azerbaijan Justice Ministry perfect and intensify holding of such seminars in Baku and districts.

It should be noted, that the first seminar for judges of southern areas of Azerbaijan was held in 2003 in Masalli. The seminar was attended by judges of Astara, Bilasuvar, Yardimli, Lerik, Lenkoran, Masalli and Djalilabad districts. And the first regional seminar was held in March 2003 in Nakhchivan.