Today.Az

»

Business » Baku Metro in need of funds for full technical security


02 April 2005 [16:11]

- Today.Az
Every passenger of the metro is under strict control to ensure the security, Tagi Ahmadov, the head of the Baku Metro Production Association told a news conference held on Friday.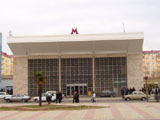 He said that 520,000 passengers the metro a day. "Video control was installed in all stations. However, we cannot install them in the trains due to lack of necessary funds. At present such systems were installed in two trains," Ahmadov underlined.

He stressed that Baku metro is in need of funds for full technical security.  The public assignments for the Metro do not cover its needs. "The public budget assigned 25bn manats to the Metro in 2005. But even this sum is doubled we could  carry out only half work targeting technical, fire security or security from  terror attacks cats," he underscored.

At present Metro employs 4500 people. Their average salary is 590,000 manats.

Touching upon the construction of houses near the metro Ahmadov said that at present 21 facilities are built in the territory of allocated for underground stations, and the construction should not be carried out as the will be raised to ground if the metro is expanded."