Today.Az

»

Business » TransTechCapital, ANAS sign MoU


18 May 2015 [14:24]

- Today.Az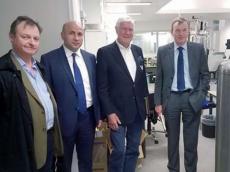 By Nigar Orujova
TransTechCapital and Azerbaijan's National Academy of Science signed a Memorandum of Understanding to create an exemplary technology transfer function for the efficient commercialisation of intellectual property arising in ANAS's technical institutes.
The MoU was signed during a visit by ANAS' Head of Innovation department Dr. Vugar Babayev to the UK.
TTC is particularly interested in Azerbaijan due to the country's excellent technical Institutes, Universities and Academies. They have also recognised the significant workforce up-skilling taking place as a result of hosting global sporting events such as Baku 2015.
TTC hosted Dr. Babayev's visit to the UK, which included successful meetings with some of the UK's premier technology transfer and investment experts at the Universities of Oxford, UCL (London) and Manchester.
ANAS's Head of Innovation department commented: "We are delighted to have agreed this MoU with TransTech Capital and grateful for the introductions they made to their high-level relationships in technology transfer in the UK. TTC's expertise in technology transfer, commercialisation and venture funding will be of very significant value to ANAS."
TTC General Partner Simon Robeson commented: "There is a significant body of innovative research present within ANAS. Azerbaijan is truly a country of opportunity. Given the strength of institutions such as ANAS and Government investment in skills development through events such as the European Games, we want to be a part of delivering this young nation's exciting potential."
TTC is a venture capital advisory and investment firm and part of the award winning MTI Partners technology investment group, which has been investing in the technology commercialisation sector since 1983.
TTC is focussed on transferring its technology commercialisation, due-diligence and venture funding expertise to academic institutions and corporations in Azerbaijan in its pursuit of non-oil based GDP growth.