Today.Az

»

Analytics » Central Asia is bursting at seams


12 March 2015 [17:15]

- Today.Az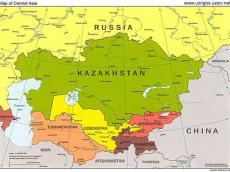 /By AzerNews/

By Laman Sadigova
As Russia suffers from an economic slowdown on the back of EU and U.S. sanctions, Central Asia's economy has suffered more than it cares to admit. Hit by the devaluation of the ruble, Central Asian countries have seen their economy dive and their currency struggle.
Torn by many problems Central Asia is now trying to move toward economic growth and generate economic opportunities by becoming pertinent international partners, in line with international requirements.
Cowering under a long list of problems -- poverty, lack of education, corruption and water-energy problems, only to name a few, Central Asian countries are struggling.
Events in Russia only help to exacerbate those difficulties.
At a summit held in Astana in 2010, former U.S. Secretary of State Hilary Clinton said that Kazakhstan has become the most valuable and leading country in the Central Asia region, a stabilizing force.
Located in quite a favorable geopolitical position, Kazakhstan relies on its neighbors to export its products, especially oil and grain. In recent years, foreign trade was significantly diversified. EU member states take the top places in the structure of Kazakhstan's trade turnover. These relations are enormously perspective with non-CIS countries, including China, Turkey, Germany, Switzerland, the Czech Republic, the U.S., the UK, South Korea, and others.
Still Russia remains a main trading partner of Kazakhstan. The devaluation of the Russian ruble hit Kazakhstan's economy hard. Kazakhstan's close dependence on Russia meant that the country spiraled down into a monetary crisis, forced to purchase hard currencies to remain afloat, while all the while losing much needed export trade volumes.
To make matters worse, Russian gas giant Gazprom announced it is planning to stop its purchase of gas from Turkmenistan and Uzbekistan. It is not hard to imagine how deeply this factor will affect both countries' economy. And though Uzbekistan is planning to replace Russia with China it is uneasy at the thought of depending so entirely on China to sustain its economy. Trade and economic contacts between Uzbekistan and Russia (constituting a single economic space in the format EAC) are essential for Tashkent.
The new migration policy in Russia makes Uzbekistan nervous as well, just as it does other countries in the region. During his last visit to Uzbekistan, President Vladimir Putin said Russia is not planning to exert pressure on Tashkent. Though, from a geopolitical point of view, Uzbekistan, which share borders with all the countries in the region, is the most convenient way to keep U.S. influence in Central Asia at bay. Unless Uzbek President Islam Karimov decides to "flirt" with the U.S., he might receive Russian support. But Russia also needs to mitigate its migration system.
Another country of the region which has suffered is Tajikistan. Tajiks represent the brunt of Russia's illegal migrants. It is hard to imagine that both countries will enjoy favorable relations now that Russia has reviewed its migration policy.
Moscow is canceling its quotas for migrants from countries with a visa-free regime. Now, instead of obtaining a permit, migrants will need to be issued a patent for labor activity.
Unfavorable terms make migrants give up their low-paid jobs and leave. Perhaps, Russia is just trying to get rid of its low-skilled citizens from Central Asia? Regardless Tajikistan will suffer, especially since its economy is weak to begin with.
Low energy resources, monetary pressure due to the devaluation of the ruble and low skills have left Tajikistan in a bit of a situation.
As for Turkmenistan, despite its gas resources, the country has no reliable and significant buyer and partner. President Gurbanguly Berdimuhamedov called on the country to increase its production of petroleum products. And though the Trans-Caspian project stands a light in the dark, it still remains a long way away.
The country's major task remains for now to increase the share of the business sector to 65 percent excluding fuel and energy complex.
However, given the specifics of the Central Asia region is it difficult to imagine that countries will look for alternative partners, preferring instead to leave things as they are.