Today.Az

»

Analytics » Wintry spirit of Shahdag national park


02 December 2014 [10:26]

- Today.Az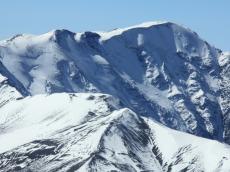 /AzerNews/
By Nigar Orujova
Azerbaijan, a country with numerous national parks that are home to marvelous nature of the region, is a perfect destination for tourists throughout the year.
One of the main tourist hubs in Azerbaijan is Shahdag national park in the north of the country.
This park has turned into a pilgrimage destination for local population over the past couple of years.
In a word, you need to visit this place to enjoy the wintry Azerbaijan. In autumn when the whole country is still enjoying warm weather, it is already covered by snow.
Shahdag National Park covers a territory of 115,895 ha, including five regions of the country. The park was established in December 2006 to preserver global mountain forests and pasture ecosystems located in high mountainous areas.
The height of the National Park territory is the main reason behind its climatic diversity, fertility of flora and richness of animal life. The landscape of the territory is fantastic and the mountains attract not only tourists, but also sportsmen to the highest peaks of the country, Bazarduzu Mountain of 4,466 meters above sea level.
This place is an ideal one for trainings and competitions in climbing, ice climbing, and alpine skiing. But these high-mountains located on the border with Russia, are not open for all visitors.
Bear in mind that the permission required for visiting the high mountain areas in the national park is given within 15 days.
Sportsmen and sports enthusiast come here from around the world. The management of the park requires all federations, associations and sports clubs to have rescue groups with special skills and equipment. They are also asked to observe the rule of park.
However, the park meets the needs of tourists and offers online services for application and payment. The application form can be downloaded from the official website of the Park.
This year, over 1,000 people aim to conquer peaks of the national park. You can be one of them, and enjoy watching the whole Caucasus fauna species.