Today.Az

»

Analytics » Russia not to abolish visa regime for Georgia


17 April 2014 [13:03]

- Today.Az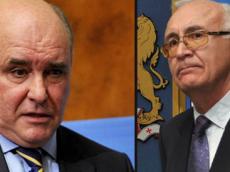 By AzerNews

Russia cannot abolish visas with Georgia in the absence of diplomatic relations between the two countries, Russian Deputy Foreign Minister said.

Grigory Karasin made the remark after his meeting with Special Representative of Georgian Prime Minister for Russian-Georgian relations Zurab Abashidze in Prague.

"It is premature to speak about a full liberalization of the visa regime for Georgian citizens," he noted.

Georgia and Russia, its giant northern neighbor, have maintained no diplomatic relations since a brief war in 2008. Tbilisi broke off relations with Moscow in August 2008 when Moscow crushed a Georgian assault to reassert control over two rebel regions -South Ossetia and Abkhazia- and later recognized the regions. Georgia announced the two unrecognized republics as occupied territories in September 2008.

Georgia abolished visa regime for Russian citizens on February 29, 2012.

Karasin went on to say that economic cooperation between Russia and Georgia increased in 2013.

"Trade turnover between the countries increased by 50 percent," he noted. "The export of Georgian goods to the Russian market increased by two times and 22,000 visas were issued, which was much more than the previous years."

Following the meeting with Karasin, Abashidze said Russia does not intend to exert any pressure on Georgia for signing an Association Agreement with the EU in June.

"What I heard form Grigory Karasin about Georgia's signing the Association Agreement with the EU is very important. My colleague clearly and unambiguously stated that Russia will not exert pressure on Georgia in connection with this," he told local media.

Georgia initialed the Association Agreement at the Vilnius summit on November 29, 2013. Signing the Association Agreement is scheduled for August 2014.

Recently, Georgian State Minister on European and Euro-Atlantic Integration Alexi Petriashvili said the Association Agreement will be signed by June.