Today.Az

»

Analytics » A new stage in Azerbaijani-Iranian relations


11 April 2014 [08:15]

- Today.Az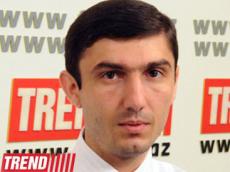 Elchin Mehdiyev, Trend:

Azerbaijani President's visit to Iran and the discussion of the strategic issues should be assessed as a new stage of cooperation between the two countries. At the same time, this visit provides a basis for further expansion of cooperation between the countries.

From the first day of its activity the new Iranian government began to reconsider relations with Azerbaijan and made a political correction. With this, Tehran demonstrated that it is impossible to achieve anything in the region without Azerbaijan. Either it is needed to be sincere towards Azerbaijan, or to stay away from regional processes.

Azerbaijan and Iran are close neighbors, brothers and co-religionists. Sincerity is in the interests of both peoples and at the same time relations between the states serve the peace, stability and security of the region. The change in Iran's attitude towards Azerbaijan became the cause of rapprochement between the two states.

Four documents contributing to strengthening cooperation have been signed between the two states during the visit of the Azerbaijani president to Iran.

The statements of the Azerbaijani President Ilham Aliyev during the visit further prove that bilateral relations are developing successfully, and historical, cultural and religious roots are creating the basis for this development.

One of the important points of the visit was the statement made on the Nagorno-Karabakh conflict. Azerbaijan once again stated that Iran's support in the settlement of the Armenian-Azerbaijan Nagorno-Karabakh conflict is important. The Iranian side unequivocally stressed the importance of resolving the conflict in the framework of international norms and principles. And this clearly signals to Armenia the impossibility of concessions in the conflict settlement.

The warming observed in Azerbaijani - Iranian relations leaves no doubt that all tasks will be implemented and Azerbaijani-Iranian relations will be raised to a higher level, as our people are linked by deep historical, cultural roots.