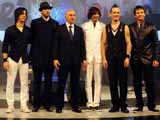 The selection of a song in English to represent Turkey in the Eurovision contest has drawn criticism from deputies within the Nationalist Movement Party, or MHP.
The rock band maNga, which won Best European Act last year at the MTV Europe Music Awards, was recently announced as Turkey's representative in the next Eurovision contest, where it will perform the song "We Could Be the Same."
The English-language song incorporates traditional Turkish musical motifs and has been acclaimed by Turkish music authorities, but the MHP deputies say entering the contest with a song in a foreign language disrespects both the Turkish nation and language.
The Turkish Radio and Television Corporation, or TRT, selects Turkey's entry in the Eurovision contest each year.
"We condemning this attitude TRT has displayed since 2003," said Mehmet Şandır, the MHP group deputy chairman. During that time, however, Turkey has twice been represented in the contest by songs in Turkish: "Rimi Rimi Ley" by Gülseren in 2005 and "Deli" by Mor ve Ötesi in 2008.
Rıdvan Yalçın, an MHP deputy from Ordu, in the country's Black Sea region, also criticized the TRT and said Turkey should not be represented by a song in a foreign language in an international contest. Yalçın suggested that Turkey should try rearrangements of classical or folk Turkish songs such as "Beyaz Giyme," "İn Dereye Dereye," "Nemrut'un Kızı" or "Makber."
"So we receive a lot of points; so we come in first. I do not want a first place like that," Yalçın said. "Let us enter with our own [language]. Let the first place come like that or not at all."
"Don't they say the language of music is universal? Is it not universal when it is in Turkish?" he said. "The TRT not accepting Turkish is an insult to the Turkish world."
The Ordu deputy then gave an example from the sporting world, noting that while nearly all football teams employ foreign players, they are not allowed on the national team.
"Only Turkish players are being called to the national team," he said. "If the aim is only to receive points, then let England form our national team and let us play the national games with that team."
/Hurriyet Daily News/